The Little Red Schoolhouse, once known as the Upper Greenwich Friends School, was built in 1809 and opened for classes on January 10, 1810.  In September 1863, a frame was added to the north side on the school. Until 1874 this was the only school in the village.  From 1901 until 1926, it was used as a public school for the lower grades.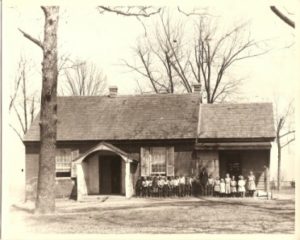 In 1926, the YMCA used the building.  They repaired and repainted the interior, removed the desks, had electric lights installed and made it a place where other community meetings could be held.
 

In 1937, The Little Red Schoolhouse was proudly named as an historical site by the Historic American Buildings Survey of the United States Deparment of the Interior for its archive as the Library of Congress.
With the financial help of Quakers Amos and Dorothy Peaslee, in 1941 the building was restored and enlarged to include a kitchen and bathroom.  That same year, the Little Red Schoolhouse was named to ensure the preservation of the historic site.
On December 27, 1941, the building was reopened and has been used as a community center ever since. 

It continues to be owned by Mickleton Friends Meeting and maintained by a committee of township residents working with Meeting members.