GIRLS' "NIGHT IN" RETREAT
 6:30 – 8:30PM | THURSDAY AUGUST 8
The Little Red Schoolhouse, 12 Harmony Rd., Mickleton, NJ
Girls' "Night In" Retreat!
A magical journey of bliss, Yoga Nidra
(a yoga practice everyone can do)
Guided by Nancy Finkle, RYT 500
Therapeutic vibrational sounds of crystal bowls
played by Shalini Saxena Breault
Summer hors d'oeuvres
Prepared by Karen Burzichelli, 
Refreshing organic summer teas, 
from Emerald City Tea & More, Mullica Hill
 A delicious fruity, and lower sugar version
 of the the popular Spanish beverage, Sangria will be served as well.
Yummy treats, courtesy of 
Artisan Marshmallow, Mullica Hill 
Goodies from your local woman-owned self-care vendors, that you need to know about.
When: August 8, 2019 @ 6:30pm-8:30pm
Where: The Little Red Schoolhouse, Mickleton, NJ
(An inviting & tranquil environment)
Investment: $30 (see below for registration details)
Why: Because self-care is in season no matter what time of year it is.
Join me and my presenters for an evening of wellness. YOU and your friends and your mom and your sister(s) and your daughter(s) will totally love this journey of self-care "me" time and fun!
This fabulous retreat experience will include:
Yoga Nidra
Yoga Nidra means "yogic sleep". Practiced in a supine position, Nancy will guide you and take you out of your "fight or flight" mode, into a relaxation response – your body's natural healing state.
Through self-intention (sankalpa), body sensing, breath awareness, guided imagery and other practices, you are lead on a deeply relaxing meditative journey. Calming lavender eye cloths will be provided.
Benefits include: 
 Reduced anxiety
 Reduced tension
 Lowered stress levels
 Promoted self-healing and restored well being
Therapeutic vibrational sounds of crystal bowls played by Shalini Saxena Breault during Yoga Nidra. Crystal Bowls are unique sound healing instruments made out of pure quartz crystal. Their melodic vibration resonate with the crystals in our bodies, mainly in our bones, having a great effect on the spine, diffusing along the nerve pathways to the organs. The effects touch systems, tissues, and cells, in turn affecting blood circulation, metabolism, endocrine and chakra balance, cleansing the auric field, and also balancing the
hemispheres of the brain.
Please bring your mat and bring a pillow (if that sounds comforting).
A fun interactive cooking demo
with a theme of "Seasonal Eating Made Simple". Karen will share nutrition facts & tips while showing you how to create delicious and nourishing hors d'oeuvres using seasonal produce.
ATTIRE:
Casual
Loose + Comfy
Hosts: 
Nancy Finkle is a RYT 500 yoga instructor certified by Yoga Alliance. Nancy is the owner of Yoga with Nancy, an organization that offers a variety of holistic and integrative women's yoga and retreat class experiences. Her mission is to inspire women to live a healthier, more balanced life through yoga and meditation.
Shalini Saxena Breault, Certified Massage Therapist + Raindrop Therapy Practitioner + Reiki Master
Shalini is the creator of Swan Goddess LLC and an author, sound healer, yin and chair yoga teacher and Reiki master and teacher. She is also the author of the children's book titled Hello Sun, Moon and Stars (available on Amazon).
Karen Burzichelli, RN & Certified Health Coach
Owner of Karen's Healing Kitchen
Alternative and Holistic Health Service and great cook!
Karen's mantra, "LET FOOD BE THY MEDICINE AND MEDICINE BE THY FOOD"
She has received Health Coach from the Institute for Integrative Nutrition's cutting -edge Health Coach Training Program. Karen has studied with the world's top health and wellness experts. Among the many are:
Joshua Rosenthal, founder and director of the Institute for Integrative Nutrition
Deepak Chopra, MD leader in the field of mind-body medicine
David Katz, MD, MPH, director of Yale University's Prevention Research Center
Gabrielle Bernstein, bestselling author and life coach
Geneen Roth, bestselling author and expert on emotional eating
Joel Fuhrman, MD, family physician and leading expert on nutritional healing
We can't wait to see you!
Registration Details
$30 – Tickets can be purchased in advance of the event by mailing a check payable to:  Nancy's Exercise Classes
Nancy Finkle
224 Dowdy Drive
Gibbstown, NJ 08027
$35 – Night of the Event, providing it's not sold out.
Cash or check acceptable.
Space is limited, register now to reserve your mat spot!
—————————————–
Wellness Experiences at the Schoolhouse
At times, the Schoolhouse partners with local wellness providers and coaches to offer various fitness experiences.  Current offerings include Yoga and a seasonal tennis clinic. Check back periodically for new classes.  And don't forget to sign up for the LRSH email list to be informed of future health and wellness events.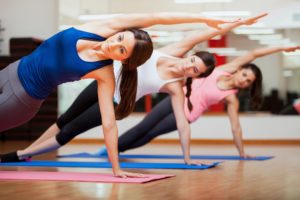 YOGA CLASSES
at the Schoolhouse
All levels welcome
Starting September
Tuesdays & Thursdays
9:15am   Fee: $10
Pre- registration is required.
Please contact:
www.NancysExerciseClasses.com
nancyfinkle@comcast.net
609.519.1898